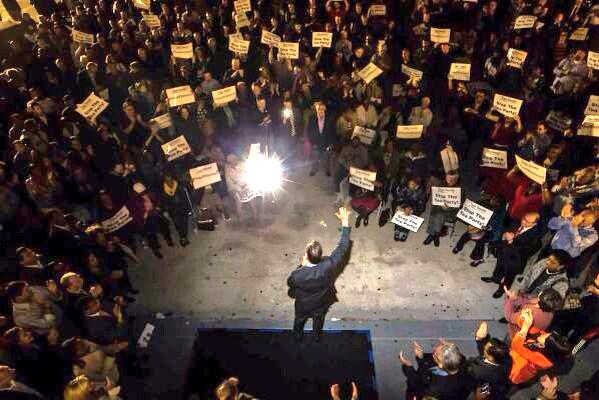 Of course your first reaction to this will be Nassau County?? Wtf is this guy smoking?
But it's true. Look at the other races:
Normally the markee of races of the nation during the off-year election cycle, as a taking place in a large, competitive, purple state, Virginia is luckily going to be a walk for our side (McAlluife, Northam, and Herring) in all the statewide offices because they all face insane, unelectable opponents. As Kos just pointed out, McAlluife is turning out our base to win. The top-of-ticket dominance will help Dems gain seats in the Legislature.
The race for NYC Mayor is gonna be a DeBlasio tidal wave. This race has been over for months now.
Unfortunately, Chris Christie is gonna romp to re-lection. It's sad, but there's nothing to do to stop that at this point. 43% of New Jersey voters don't even know who Barbra Buono is.
But there is one race this year that's tight, in a large battleground, and one could create a lot of media spin about being a true bell-weather of a large Democratic wave in 2014: the race for Nassau County Executive.
A little background…
Nassau County is big. It's purple. And it's has a competitive election this year.
Nassau used to be one of those counties that epitomized the base of the GOP in the postwar era: suburban, middle class, mostly populated by ethnic white people. The GOP's dominance was so complete that between 1938, when the Nassau County Executive was created, and 2001, the office was only held for 2 terms by one Democrat, Eugene Nickerson, from 1962-1970.
By the turn of the century, 30 years of Republican "governance" had taken its toll on the county: it's economy was depressed, it's finances were so bad it had to be taken over by a state control board, and the growth it experienced after WW2 was clearly unsustainable. Even during the late-90's boom, Nassau was suffering tremendously.
In 2001, for the first time in 30 years, Nassau County residents elected a Democrat to the Executive's office, Tom Suozzi. Like President Obama, he was handed a a slow-motion train wreck upon assuming office. And Like President Obama, he turned it around.
Suozzi brought Nassau back from the brink during his 2 terms as executive, only to see Nassau again get clobbered by the great recession. In a very low-turnout election in the anti-incumbent year of 2009, Suozzi was defeated by a tea-party Republican, Ed Mangano by 386 votes.
This year's rematch has been termed "The Thrilla in Mineola."
Mangano's reign has once again demonstrated the inevitable failure that ensues whenever Republicans'g govern. Mangano's first major initiative was of course, a budget-busing tax cut, coupled with austerity. Naturally, the economy has since performed underwhelmihgly and the county's finances have to be held together with string and chewing gum.
Suozzi is smartly turning this race into a referendum against the Tea Party and coming out strongly against them:
Meanwhile, this race has turned into a national battle, with both sides sending in the cavalry. On Wednesday, Bill Clinton swung through Nassau to fundraise and campaign for Suozzi.
And of course, Andrew Cuomo has tacitly endorsed Ed Mangano, because he fears with Suozzi in the Executive's office, the days of his GOP buddies in the State Senate will be numbered.
Suozzi knows the only way for Nassau to get out of its current predicament is to have smarter, denser growth around its transit hubs to broaden the tax base and make more efficient use of land to generate sufficient revenues to properly fund government.
So if Suozzi wins on Nov. 5, it will accomplish all of these amazing outcomes: 1) Nassau County will have a shot at a decent future, 2) the first tea party candidate ever elected will be tossed out of office, 3) Andrew Cuomo will have to eat some humble pie, and 4) this will create a great media narrative heading into the 2014 elections, adding to the possibility of a Democratic wave election.
This is a race that needs our resources and support more than any in the country right now. Let's help turn out the base for Tom.